Popup

Alerts

Popup Alerts
Popup Alerts Overview
Popup Alerts can be of benefit in a number of scenarios such as:
Credit check reminders for specific customers
Special delivery instructions for either customers or stock items
Prompts to cross-sell linked products
Advertise special promotions on products
Promote linked new products
Special health and safety handling or storage instructions
End of line stock on specific stock item batches
Popup Alerts may be defined against Sales and Purchase ledger accounts, SOP Delivery Addresses, Stock Items and even individual stock item batches/serial items. During sales and purchase order entry, Popup Alerts will be automatically displayed when a customer, supplier, delivery address or stock item is selected and there is matching Popup Alert.
A list of Popup Alerts may be displayed from a number of Sage 200 forms where alerts may be created, amended and deleted.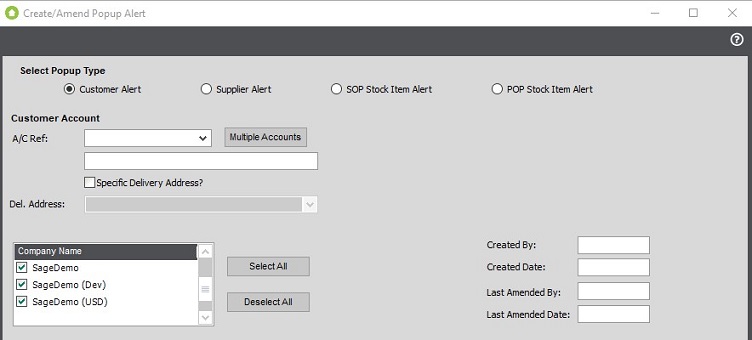 Popup Alert

Display

A Popup Alert may be automatically displayed in Rapid Order Entry and Full Order Entry when either a matching:
Customer Account is selected
Stock Item is selected
Customer Delivery Address is selected
Popup Alerts automatically fade and close so as to avoid any unnecessary keystrokes, however once a user clicks on the Popup Alert window it will remain visible until it is manually closed.
On Customer Account Popup Alerts, an option is available to automatically display contacts details along with their designated role and telephone number.
Create / Amend Popup Alerts
A Popup Alerts button is available on customer, supplier and stock item forms and if Popup Alerts exist for the customer/supplier/stock item being amended/viewed, the button will contain asterisks as shown below:

Popup Alert Button with Alerts
Clicking the Popup Alerts button will display a list of matching Popup Alerts for the selected customer, supplier or stock item.
Popup Alerts may be created for customers, suppliers, delivery addresses and stock items and individual stock item batch/serial items.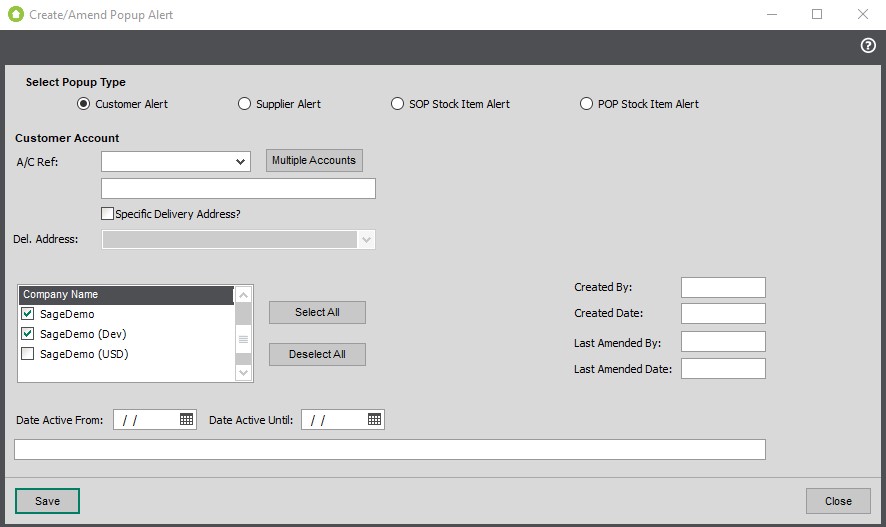 Create / Amend Popup Alerts
For further information on this and other Roundhouse Add-ons for Sage 200, please contact Roundhouse.