SAGE 200 ODYSSEY WEB SHOP
Overview
Odyssey Web Shop is a fully Integrated eCommerce solution for Sage 200 which allows your retail clients and trade customers (B2C and B2B) to place orders either on account, or with on line payments swiftly and efficiently.
A low-cost eCommerce for Sage 200 (with options for on line payments)
Can be fully implemented, brand stylised and integrated with Sage 200 in a short timescale (subject to a business process review, available content and an operational Sage 200 being in place)
An integrated, low administration element to your Sage 200 application:

add a new product to Sage 200 and there it is in web shop; just add an image to the web shop and any additional product description (or HTML/PDF files).
a new trade client placed a web order and there it is in Sage 200, just add the web user and link to the sales account.
The integration is engineered in, not added on.
Detail
In addition to all the above, because Odyssey Web Shop acts as part of the Sage 200 application you have the ability to take control over the user experience and how the back-office functions.
Odyssey Web Shop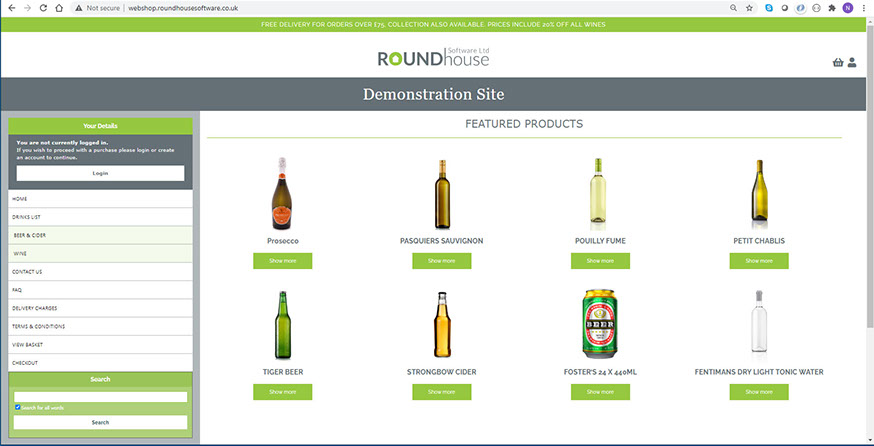 We provide a content management tool and also use flexible data integration tools which we use to apply your business rules for the Sage 200 data used in the web shop.
Do you want frequent update of available stock balance? Do you want to allow items which are out of stock to be added to the basket? Are you happy to display them, but tag them as "Out of Stock"?
Do you want the system to remember the 'favourites' your client has ordered and to present these for re-purchase?
Do you demand the client's registers/log on onto the system before they look at your products and prices?
Odyssey Webstore Administration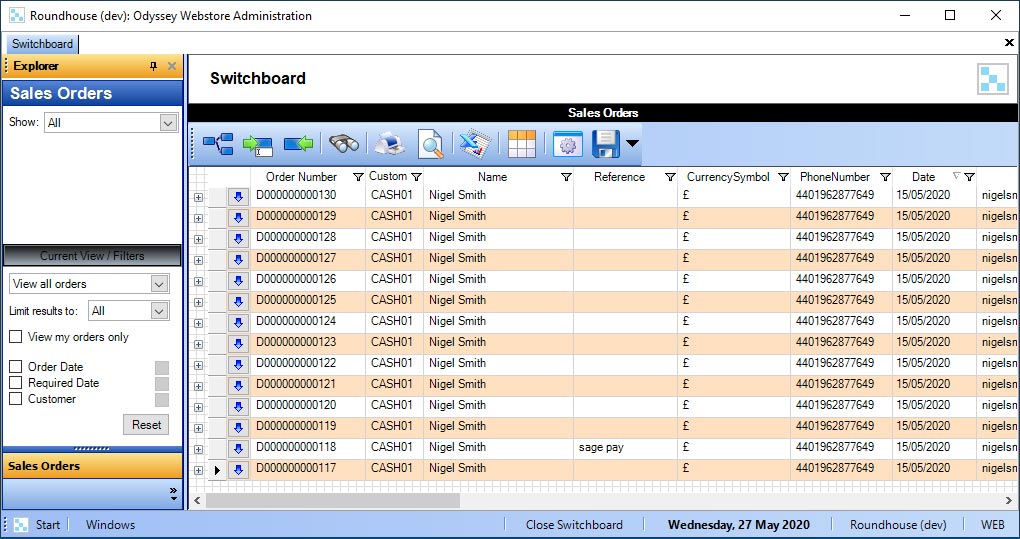 Web users will receive order confirmation emails – these can be configured using our built in HTML editor on the Odyssey Webstore Administration tool. We also send order emails to the back-office team.
The hosting of the web shop can be provisioned directly with any web space provider who can host ASP.NET (Windows Servers) with an MS SQL database, just let them know the expected daily volume of web orders. The web design changes can be based on your existing brand guidelines, just supply the logos, fonts (typefaces) and colours for the web design review of the web shop.
The back-office integration feature to sage 200 will reduce the time spent on sales order processing tasks. The orders and payments appear in Sage 200 automatically.
As Sage 200 developers, we can also provide customisations to the order creation process if necessary.
For further information on this and other Roundhouse Add-ons for Sage 200, please contact Roundhouse.